It's strange: there's an app that aims to structure the lives of its users and make them more efficient. However, the story of her own success was anything but structured. In addition to diligence, it was also shaped by happy coincidences and surprises.
For Leonard Mehlig, what many aspiring developers dream of has come true within two years: his app "Structured" makes enough money to live on. "Things are going great right now," says the 24-year-old student from Berlin when we connected with him via video call in Portugal. "I can travel, work from anywhere and am independent of investors."
A flagship app for Apple
Leo Mehlig is currently in the spotlight with his daily planner app, which enables people to better structure their day. As part of a "Founders" initiative (Founders), Apple is presenting the "most promising European apps and games from the App Store Foundations program" in its App Store. One of them is "Structured". For the young man, this means that his app is literally in the shop window on the magazine pages of the digital app store. Media representatives conduct interviews. So a lot of attention for him and his app.
And the attention may also be reflected in downloads and purchases. "The range is of course great," he says. Since it was first released in 2020, the app has already been downloaded two million times. The turnover so far is almost 900,000 US dollars.
A young man who also works alone can live off such a successful app for a while. That's why he's currently working almost full-time as an indie developer, he says. The saying used to be: from rags to riches. Today it should be "From hobby programmer to download millionaire".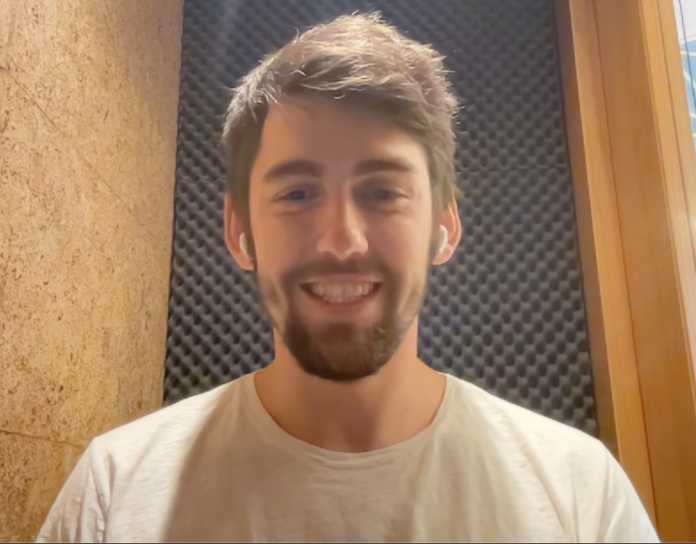 In the beginning there was personal need
When writing the first lines of code, he had no idea that the application written in Swift would one day take this path. In the beginning there was instead what plays a role in many successful developer stories: personal use. "I've seen my fellow students write down what they have to learn on a piece of paper during the exam phase, when there are several exams coming up. They then tick the box." That's how Leo planned it too – but he preferred a digital solution. "But right away I didn't find anything good for it."
So he wrote the first version of "Structured". The app is a cross between a calendar and a to-do list, he says, with a focus on the individual day. The current version of the app automatically takes over calendar data and reminders from Apple's system apps and builds a timeline from them. Between the individual points in time there are so-called time boxes, time windows that show you, for example, where there is still potential for completing further tasks.
Earning from premium features
The app was initially created in the evenings, after university or after work in his student job. "The very first version had very few features," he recalls. The priority was to release the app as soon as possible. "I've always wanted my own app." In the beginning there was no payment function and therefore no business model. He only later added the option of booking additional functions in the free app for just under 10 euros.
Because what Leo had not foreseen: the app became independent. "Apparently a lot of people were looking for daily planners. And so the app kept rising in the search results," says Leo. He was "totally surprised" by this, but quickly followed up and wrote new functions. Volunteers helped him translate the app into almost 30 languages. The program is also very well received by people with autism, among other things, because it helps them to stay focused. That, too, was a surprise that only became clear to him with the reviews in the App Store and feedback emails.
Here's how Apple helped
And then suddenly Apple knocked on the door. It wasn't Leo's first contact, as he had previously been a three-time WWDC developer conference grantee. In 2015 he was invited to this for the first time. Four years ago, the US company launched the App Store Foundations program. In the initiative, which has now been expanded to 29 countries, the operator of the app store provides developers with assistance. For example, Leo reports on workshops that dealt with how an app can be better presented in the App Store. But there were also suggestions for improving the program itself. "That was very helpful."
Other developers such as Stephanie Burgeois from France, who created the English learning app "Holy Owly" with her team of 15, say that Apple helped with so-called onboarding, for example. In other words, those screens that welcome a new user to the app, familiarize them with how to use them and, ideally, convince them to create an account. The Spanish game developer Sergio Abril, who along with his brother came from architecture studies to programming as a career changer, had no idea what to consider when releasing an app. He was also helped in direct conversation. Both can also be found with their apps in the founder portrait.
Not entirely unselfish
What sounds like a gratuity serves Apple in reputation and merit. In view of the professionalization of the app market, small developers in particular had repeatedly complained publicly that the dream of the "one-man show" as a developer was over and that app store operators such as Apple and Google were more interested in the high-revenue ones Apps interested.
The App Store Foundations program as a start-up promotion, but also the App Store Small Business program, which grants developers below a sales threshold of one million euros a discounted sales fee for their apps, are intended to counteract this impression. According to Apple, 250 German developers have already been funded through the Foundations program. Of course, their success and their qualifications also ensure higher sales at Apple.
So it goes on for Leo
For Leo Mehlig, this adventure continues. With iOS 16 coming out in the fall, he's working on some new features. The widgets in the lock screen and the simpler ways to integrate shortcuts are what he likes, he reveals. Overall, he wants to make "Structured" a little more flexible.
But one thing is certain: "Structured" remains a one-man show. With the exception of occasional external orders for graphic designers, programming and conception remain in one hand. "If I hire people for this, it would only increase the effort at the moment," says Leo. And by the way: The source code of "Structured" could do with a little more structure itself.

(mki)

#structure #success #iPhone #app #turned #hobby #main #job