Lists published on Twitter show what the range of new server processors from AMD and Intel could look like. These not only provide model names, but also key data on AMD Genoa and Intel Sapphire Rapids.
AMD Genoa (Zen 4) – models and key data
There is initially a surprise with the names, because if the information is correct, AMD will deviate from the previous Epyc 7xxx scheme at Genoa and launch the new generation as Epyc 9xxx. From a marketing perspective, this would definitely make sense, because "9000" simply sounds better than "7000" or "8000" from the competitor Intel.
The list of Genoa CPUs also includes some pre-series models (engineering samples), but the most interesting are the models supposedly ready for production with the corresponding product numbers. Accordingly, the first top model will be called the Epyc 9654P and will have 96 Zen 4 cores, 192 threads and 384 MB cache. With a TDP of 360 watts, the clock rates should offer a comparatively low 2.0 to 2.15 GHz. The models with 64 cores (Epyc 9534) and 48 cores (Epyc 9454) clock a little higher, bringing it to a maximum of 2.4 GHz.
However, models with 24 (Epyc 9274F) and 16 (Epyc 9174F) cores, which are specified with up to 3.6 GHz and 3.8 GHz respectively, only break through the 3 GHz mark with an "F". Both offer a very large cache (256 MB) for their number of cores and a high TDP class of 320 watts. Standard models like the 9254, on the other hand, deliver significantly less clock and cache with only 200 watts TDP. The entry is the Epyc 9124 with 16 cores, a maximum of 2.7 GHz, only 64 MB cache and 200 watts.
Intel Sapphire Rapids – models and key data
As expected, it is still far behind AMD's maximum number of cores. Sapphire Rapids in the form of the Intel Xeon Platinum 8490H is said to offer 60 cores and 120 threads as the spearhead. In return, all cores should reach 2.9 GHz in turbo mode; the TDP is 350 watts, which also applies to the Platinum 8480+ with 56 cores and up to 3.0 GHz. The smallest model in the new Platinum series has 16 cores, 2.8 GHz and 300 watts.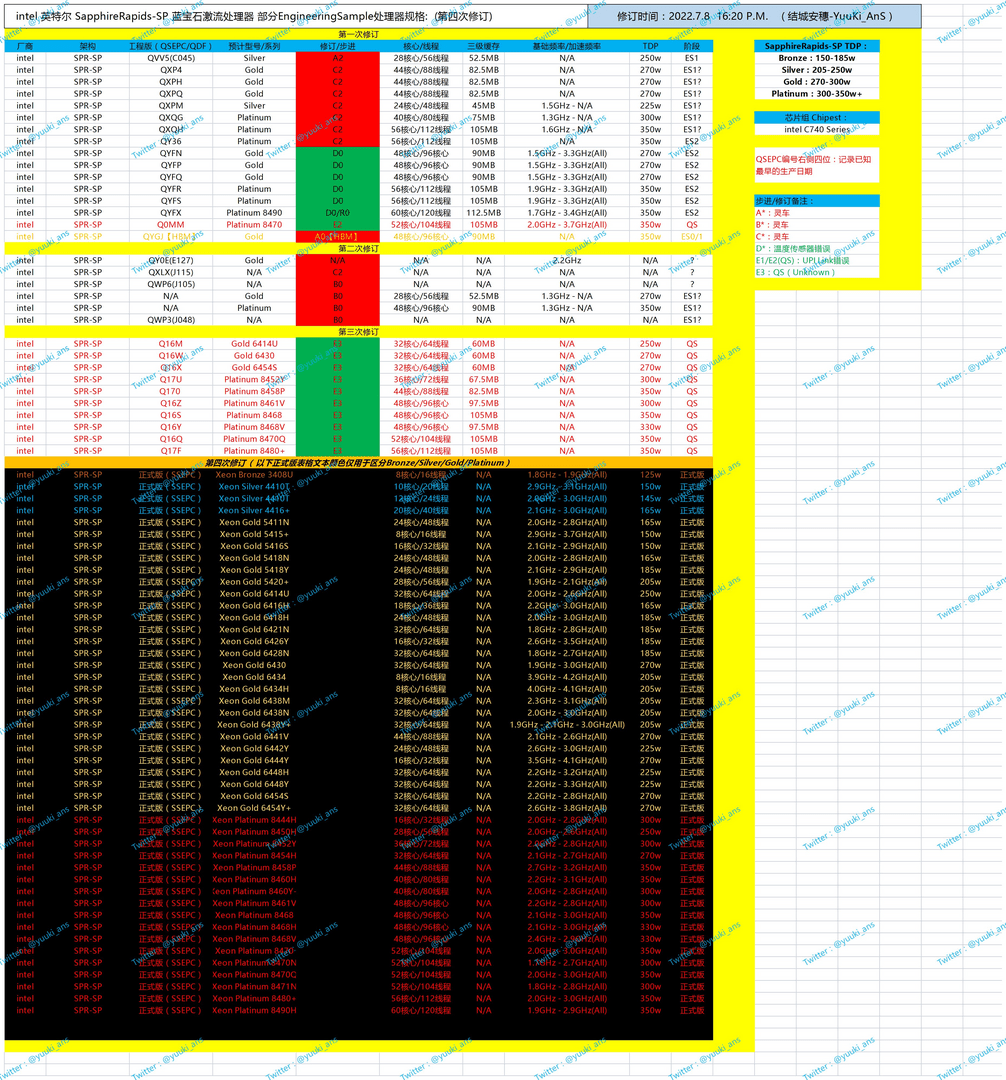 The list is significantly longer than AMD's and also includes numerous Xeon Gold with 8 to 44 cores, three Xeon Silver with 10 to 20 cores and a Xeon Bronze with 8 cores, 1.9 GHz and 125 watts as an absolute beginner.
The tipster already works with Genoa
Even if the information cannot be confirmed yet, it will receive more weight with another tweet. There, photos of a sample from AMD Genoa show that the user @yuuki_answho posted the tables on Twitter, appears to have real insight into the new matter.
1. Take out the radiator…
2. Putting two AMD ZEN4 Genoa EPYC 3. CPUs into the machine…
4. Install the radiator…
5. Turn on the machine…
6. Boat:
AMD Eng Sample:100-000000***-0*
7. After a few seconds…
8. Two CPUs have been burned and damaged… pic.twitter.com/Uv2xpyTs8I

— 结城安穗-YuuKi_AnS (@yuuki_ans) July 8, 2022
However, the test operation apparently did not run smoothly and two samples broke. But this is not unusual, the user writes, because friends also lost samples from Genoa and Sapphire Rapids during testing. This is simply normal in tests with pre-series chips.
Friends who work in the testing department tell us they have dozens of SPRs and dozens of Genoas burned on their machines…
—
It's normal, isn't it…
Tests are always like this.

— 结城安穗-YuuKi_AnS (@yuuki_ans) July 8, 2022
This year, at least AMD will show whether the information is correct, because Genoa is scheduled to appear in the fourth quarter of 2022. At Intel, on the other hand, it could take longer than expected, because there are more and more indications that the market launch will be postponed to next year.

#Models #key #data #Details #AMD #Genoa #Zen #Intel #Sapphire #Rapids