Image quality: That's what the technical measurements say
The differences are already large when it comes to color reproduction. Because not every TV is properly calibrated at the factory. This then manifests itself in a distorted display of colors, for example when skin colors appear reddish, the picture has a bluish cast or a European coniferous forest glows as green as Hulk's skin. The user can then laboriously experiment with the color settings, professionals use measuring instruments and programs to carry out the perfect calibration themselves.
Color accuracy, color space and contrast ratio are evaluated with various analysis programs.
The LG B2 (OLED55B29LA), the Panasonic LXW944 and the Samsung QN95B have almost perfect color fidelity ex works. With an average Delta E of 1.4 (LG and Panasonic) and 1.6 (Samsung), the colors hardly deviate from the original. To explain: the lower the value, the better. They achieve the very good result in the Cinema Expert (LG) and Filmmaker (Samsung and Panasonic) modes. All other modes bring paler or brighter colors, a cooler white or a brighter image, but distort the color representation. The inexpensive model from OK was completely wrong with a dE of 6.9. A dreary desert landscape with brown-yellow nuances in Mad Max looks like a bright yellow rapeseed field. Medion's television shows slight deviations that make the picture appear bluish (dE 2.97).
The color space in detail
In addition to color fidelity, the color space is also crucial. The former is the ability to display colors accurately, the latter to be able to display as many colors as possible. The classic rec.709 color space is sufficient for older film material, television and many games. Almost every TV covers around 98 to 99 percent. The extended DCI-P3 color space is challenging. The particularly bright and gaudy colors are used in HDR content. The Rec.2020 color space is even larger. Acted as the color space of the future, even the most modern televisions never fully cover it.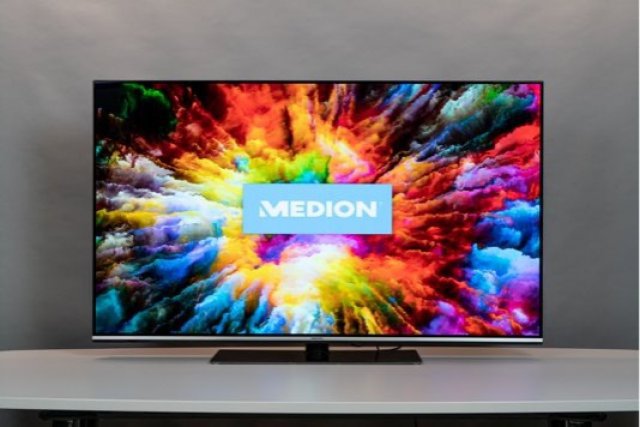 The picture of the Medion TV shows deep black and covers many colors of the extended color space.
The LG model, on the other hand, masters DCI-P3 colors to 97% and Samsung to 95%. The cheaper Panasonic LXW944 achieves a good 87.5%, Medion slightly tops this with 89.3%. The test laboratory could not attest to an extended color space for the OLED 55950UC-TAB from OK. In return, it scores with a high contrast ratio of 4,879:1. With 7,672:1, Samsung gets a lot out of the LCD panel, but lags behind the TVs from Medion and LG, which deliver rich black and very high contrasts thanks to OLED technology. Panasonic's LXW944 shows neither. The black appears slightly greyish, reaches a brightness of 0.6 candelas per square meter (cd/sqm) in the measurement – the value for OLEDs is 0 cd/sqm.
#Hardware #boob #tube #gaming #Special